Consolidate Documents Electronically
Philips Electronics is one of the World's biggest and Europe's largest electronics companies. With 165,300 employees working in over 60 countries Philips earns more than $30B USD/annum in revenue.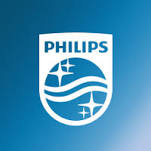 Through the introduction of an Automated Accounts Receivable Solution, Philips gained the ability to consolidate and index all documents matched to a given order number.
Invoices with customer signatures were now linked to each order.
Reduced Collections Cycles.
Improved Financial Management.
Labour Savings.
Improved Customer Relations.